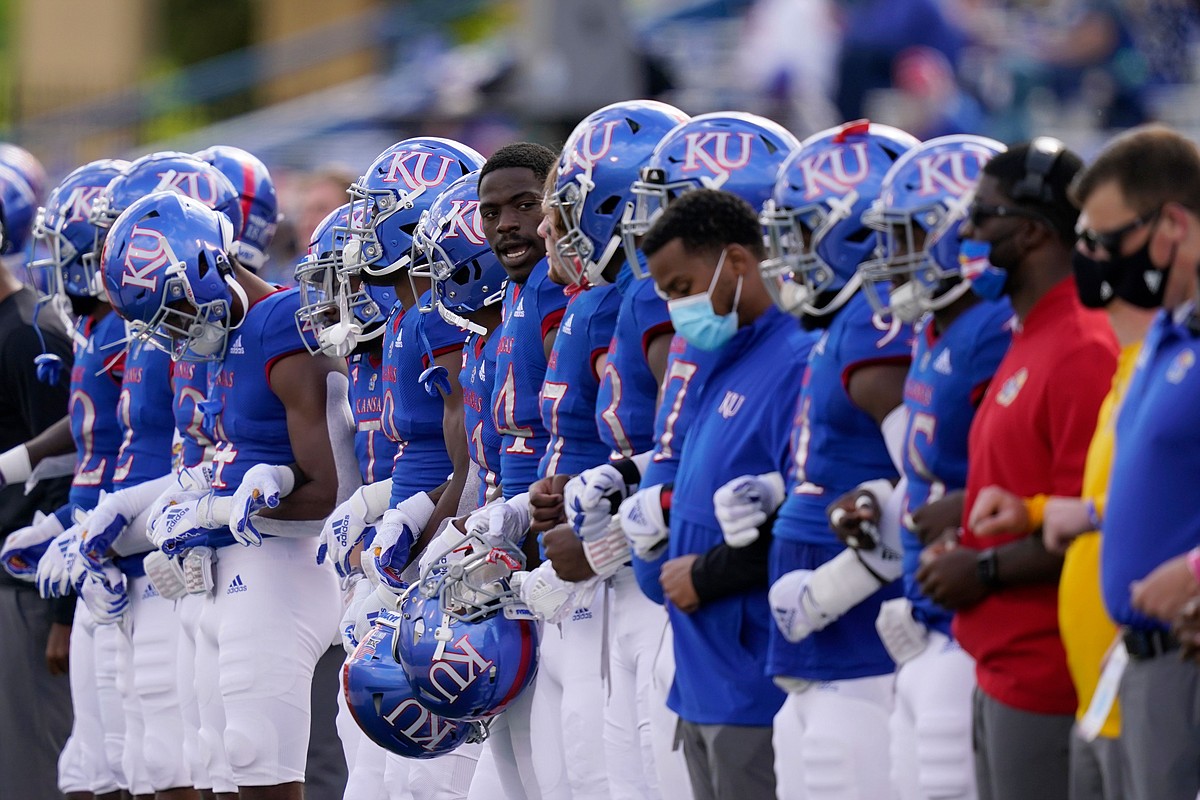 A look at KU's options if Oklahoma and Texas departures endanger the Big 12 | Tale of Tait
It may still be a little premature to consider possible landing points for Kansas in case Oklahoma and Texas really leave the Big 12 Conference for the SEC.
But the two week delay that has been reported and the simple fact that it is even discussed in the first place makes it a worthwhile effort.
So this is it.
The way I see it, if OU and UT leave the conference, KU would have five options. These options are listed below in order of what I think is most likely to least likely.
It's today. Much can change. And much of this list is based on what I learned the last time the realignment hit the conference. Much has changed on this front, so it's unclear whether the realities of a decade ago are still relevant.
Time will tell us. On the list.
• Move to ACC
There are a lot of hurdles associated with moving from Kansas to ACC, but also a lot of benefits. Travel is certainly not a picnic and would make it difficult for both parties unless ACC wants to expand further somewhere in the Midwest. Assuming they can overcome that, which is not sure, the decision to line up with the best basketball programs in the country seems to make a lot of sense. We all know it's football that drives the realignment, but unless you join the SEC – which KU doesn't – you're already playing for second place in that department. So why not be the best in the world at the other major sport? The ACC probably already believes that. The addition of Kansas would reinforce that. Beyond that, KU AD Travis Goff's close ties with ACC Commissioner Jim Phillips could be beneficial in the negotiations. Could.
• Move to the Big Ten
A top level athletic and academic conference with most of its schools close to the KU campus, KU landing in the Big Ten would be a dream scenario. I am not sure this is the most likely scenario. While the current state of the KU football program would still be problematic when it comes to taking on the states of Ohio, Michigan and the Iowas of the world, the bottom half of the Big Ten does is not untouchable. Rutgers, Maryland, Illinois, and Nebraska all struggled at times. KU can't worry about that at the moment, however. If there is a way to get into the conference, do so. And you're sure hiring Lance Leipold will be good enough to at least make you competitive with most of the conference. The Big Ten could certainly be inspired to look elsewhere, but adding Kansas and Iowa State wouldn't be the worst thing they could do either, provided they were even interested in expanding.
• Be a powerful player to keep the Big 12 together
Although the Big 12, as we know, would cease to exist along with Oklahoma and Texas, it seems there is a strong push to try and use the brand to save some sort of Power 5 spot. there are a lot of quality teams that a new Big 12 could add. None of them would come close to bringing the OU and UT. But you can add major markets (Houston, Cincinnati, and Central Florida), Nationally Recognized Schools (BYU), and teams that some say are about to break through with the right opportunity (SMU, UCF and others). If that doesn't do it for you – or, more likely, your TV partners – then you get greedy and try to poach teams from other existing Power 5 conferences, with Arizona and Arizona State in the lead. list. I put that a third because, for KU, finding a place in either of those first two conferences makes the most financial sense. Neither is a lock, however. And, beyond that, there will be plenty of people who will be ready to fight for the survival of the Big 12. If this turns out to be what KU considers his best way forward, then KU needs to flex his muscles. and become in the new Big 12 what OU and Texas were to the old one. It will be more difficult to do with the state of the football program, but they have to try. Another crazy option to consider: If the Missouri and Texas A&M SEC programs end up voting no on the OU and Texas invitation to this conference, could that seal their fate for the future within? the SEC and getting back into the Big 12 would be a smarter game?
• Switch to Pac-12
Money and time zones make it a tough option, but if the Pac-12 wants to expand further east, perhaps with KU, Oklahoma State, Iowa State, Colorado and Utah providing a solid footprint of the Rockies. in the Midwest, something could be thrown together. The most sensible decision would be some sort of combination of the best of the two conferences. Even with his football schedule as it is, KU would be on that list. But the lack of a recruiting base in the west, along with the cost of travel and late hours of play in local markets wouldn't make this option an ideal option.
• Go to a basketball conference
I don't know how you handle this, but people will mention it as an option. The only way it works is to join the Big East and team up with Villanova, Creighton, UConn, Georgetown, Butler, and others, and then allow your football program to play as a pseudo-independent. It looks messy, however. Because even fans – and opponents – might like to joke that KU is giving up football, it's not in the sports department's best financial interest. The tricky part of joining a basketball-centric league is twofold. Not only are you risking the potential winning of football dollars, but you are also asking for the impossible of the program to keep football going. Right now, Kansas isn't making enough of a draw for TV networks to be excited about the Jayhawks playing against anyone. So KU doesn't bring much TV juice to the table. On the KU side, if the Jayhawks take a bunch of tough games for National Show and big pay days, it will only make it harder for the Jayhawks to get back on the winning track.
Hard times are ahead for a whole bunch of college athletic programs if OU and Texas do in fact leave the Big 12, triggering another round of conference realignment.
And while KU's future may still lie in a revamped Big 12 conference, it's in the school's best interest to do whatever it takes to try and find a better landing point before choosing. this option. And by school, we're talking about exactly that. The freshman AD Goff will play a big part in all of this, but don't forget that Chancellor Douglas Girod and the Board of Regents wield a mighty sword here as well.
Money also speaks. So if the powers that be looking to keep the Big 12 alive find a way to get guaranteed annual TV money in the range of $ 20-25 million per member (the Big 12 paid around $ 35 million dollars last year), it could make stomach move more easily.
Even then, the nearly twice annual payout in the ACC or the Big Ten would make another round of settlement for the best that the Big 12 can do much more difficult.
Fasten your seat belt and let's see what happens.