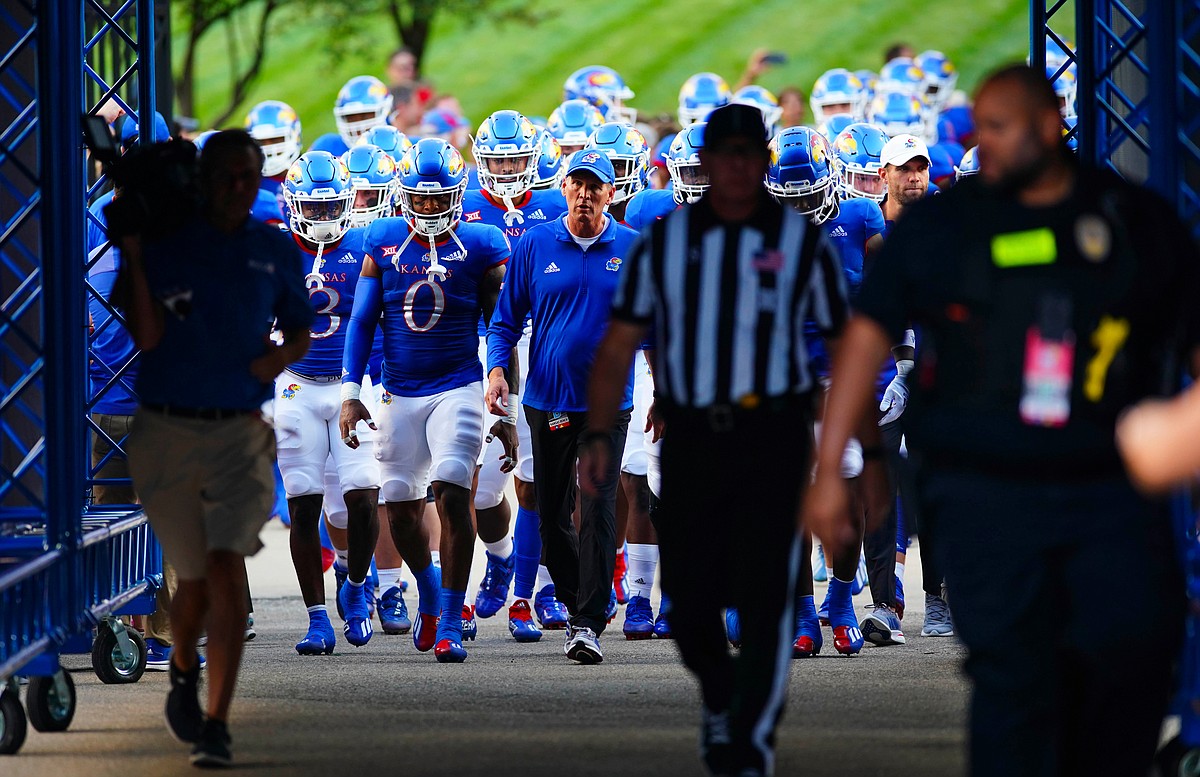 This week's big question: What's next for Kansas football at Memorial Stadium in week three? | Tale of Tait
Two games into the 2021 college football season, the Kansas Jayhawks are 1-1 and with just as much reason to be encouraged and frustrated.
What that means for the long-suffering Kansas fan base who came out in full force for Game One of the season two weeks ago will be revealed at 2:30 p.m. on Saturday, when the Baylor Bears come to town for the opening game of the Big 12 Conference for both teams.
Kansas freshman coach Lance Leipold knows what he's hoping to see. So did the players, freshman athletic director Travis Goff and the rest of the KU administration.
"It's a chance for us," Leipold said on Tuesday. "I'm just happy to be home again, and I hope our fans – and of course the students – who made such an impact in the first game of the year come back and watch. And I hope they see that this group is working hard and that they can have an impact on our conference opening. "
The Bears enter the Big 12 at 2-0, with a 29-20 victory over Texas State in Week 1 and a 66-7 bombing over Texas Southern in Week 2.
Considering opponents, these results are almost as drastically different as KU's first two outings, which produced a narrow win one week and a 27-point road loss to a ranked opponent the following week.
Leipold said Tuesday was the first time he wondered if he wanted KU to have another so-called tune-up game before he launched into the Big 12. But the numbers displayed might not have been not a bad thing.
KU will play Duke (1-1) in Week 4 on September 25, and the Blue Devils enter Week 3 at 77th in the FBS in total defense and 22nd in tag team attack.
KU, meanwhile, is 71st nationally in total defense and 103rd in total attack.
Baylor's numbers? The Bears are 16th in total defense and 11th in total offense. So, yeah, maybe this Duke's game to end the no-con schedule this week wouldn't have been so bad after all.
Then again, this coaching staff and this administration are not hardwired to determine the health and hope of the Kansas football program by the way it looks today.
"We're going to have some positive things that won't always show up on the scoreboard that will be signs of progress," Leipold said on Tuesday, voicing a popular refrain from the past decade.
But then he added the key part.
"And we have to balance these and keep working on them, but not take moral victories and think that will do it for us," he said.
Winning or losing, finding a way to keep the stadium full and rocking like it was during the opener in the meat of the season would be seen as a moral victory in its own right. And it deserves to be celebrated.
Now is the time to see if there is anything the Jayhawks can add to it.